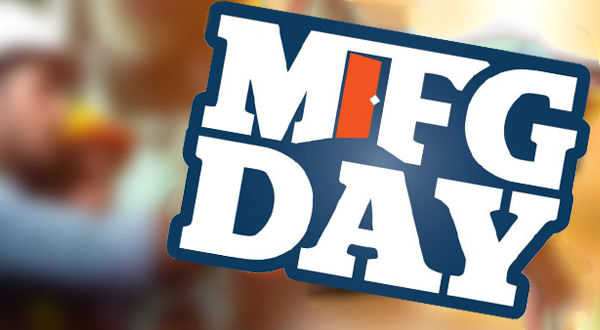 Mohegan Pennsylvania (Casino) – October 13, 2023
Join NEPIRC on Friday, October 13th to celebrate the many contributions of our region's manufacturing industry! You won't want to miss Manufacturing Day if you're a manufacturer, a non-manufacturing business that partners with manufacturers or wishes to form relationships with those in the industry, economic development organizations, students and faculty and anyone who wishes to learn more about the manufacturing sector in our region.
At Manufacturing Day, you'll be able to see product demonstrations; learn more about the cool products made right here in our local communities; participate in educational breakout sessions; network with decision-makers, buyers, leaders and business owners; hear from a keynote speaker from an internationally known manufacturer; and enjoy a day of celebration! Scroll down to save the date on your calendar, check out sponsorship opportunities and see this year's sponsors.

Click below to order your Manufacturing Day 2023 tickets!
Click below to add Manufacturing Day 2023 to your Calendar!
View the Manufacturing Day '22 Photo Album here!
Learn about our exciting sponsorship opportunities for our Manufacturing Day 2023!
Click below to view the Manufacturing Day 2023 agenda!
Keynote Speaker
Thriving Amidst Supply Chain Chaos
Pete Ruggerio, COO, Crayola
Pete Ruggiero is currently Chief Operating Officer for Crayola LLC, the global leading consumer products brand in the children's creative expression category. His Crayola career spanned a quarter of a century with previous roles, including Interim Chief Executive Officer, Vice President-Global Finance, Managing Director-Binney & Smith (Europe) Ltd.
At Crayola, Pete has played a critical role in the transformation of Crayola into an innovative company, and as Crayola has diversified its business model through new product development, expansion into international markets, and the opening of multiple Crayola Experience attractions.
SPECIAL TOPIC BREAKOUT SESSIONS
Presented by NEPIRC
Refueling the Talent Pipeline: The Importance of Familiarity
Eric Joseph Esoda, President & CEO, featuring NEPIRC's Manufacturing Dream Team Ambassadors
Cultivating Calm: Understanding & Responding to Personal & Relational Burn Out
Dr. Christine Kiesinger, Principal, CEK Communications

Deciphering Aerospace Certifications & Entering the Aerospace Supply Chain
Drew Mackie, EVP & CFO, and Ray Kryeski, Mechanical Engineer

Women in Manufacturing
Panel Discussion
Moderated By: Dr. Christine Kiesinger, Principal, CEK Communications Consultancy
Panelists: Petra Mitchell, President, Catalyst Connection; Heidi McKenna, President, The Fredericks Company; Pat Frances, CEO, Chaucer Press; Grace McGregor Kramer, Vice President of Strategy & Operations, McGregor Industries; and Denise Truesdale, Senior Vice President Human Resources, Pride Mobility Products
Sub-Contracting & Partnerships in the Government Space
Roundtable Discussion
Sponsored by APEX Accelerator at NEPA Alliance

Demystifying Compliance: What Cybersecurity Requirements Mean for NEPA Manufacturers
Panel Discussion
Moderated By: Fred Reck, President, InnoTek Computer Consulting

Panelists: TBD